Rapid Prototyping
One of the company's major areas of development is in Rapid Prototyping also known as Additive Manufacturing (AM). Our highly-skilled team maintains considerable expertise in this relatively new prototyping technology. As a pioneering UK specialist, we are able to provide customers with an efficient method of acquiring high quality cast parts – quickly.
The design and development stages for a new part can be very costly in terms of time and money. The use of rapid processing technologies (rapid prototyping using metal) simplifies the process and reduces lead times considerably.
The principal benefit is the speed at which a solid model can be generated. This in-turn creates accurate, complex 3D shapes from CAD drawings. Wax models will then be produced in hours and turned into investment castings in as little as one to two weeks. Alternatively, the overall lead-time of four to six weeks using conventional casting methods is used.
Technologies available in this process as part of investment casting enable the ability to achieve complex metal shapes. These would ordinarily be impossible to make through other methods.
To find out more about Additive Manufacturing and Rapid Prototyping please visit our FAQs page.
Please contact us to discuss your requirements.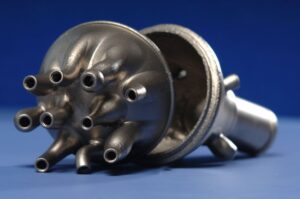 "The rapid prototypes Lestercast have manufactured have allowed engine testing to proceed months ahead of schedule."
Quotation Request Form
click to open